Mother and son outfit Orla and Cal de Brí discuss how art can capture the imagination
Regular visitors to Park West will be distinctly familiar with the towering bronze figure standing above a stepped waterfall: the colourfully titled 'The Bastard Son of Sisyphus', which was unveiled back in 1999 in conjunction with the launch of Park West.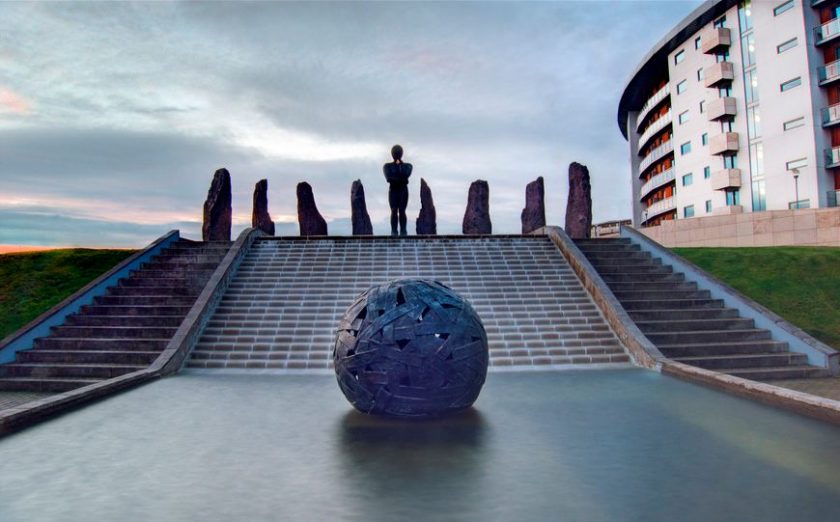 The sculpture's creator Orla de Brí works with a variety of materials in the construction of her unique art, and she offered insight into the inspiration behind her acclaimed Park West sculpture. "It is based on the Greek myth of Sisyphus in which the king was condemned to spend eternity pushing a ball up a hill, only to have it roll back down again," she said. "It's a symbol of the mundane repetitiveness of life, the idea of the endlessness of our tasks."
Orla explains how she takes inspiration from the natural world to create characters that express different feelings and concepts. "My work is predominantly figurative," she said. "The figures are highly stylised and usually appear with an abstract shape or an element from nature. I have always been curious about human behaviour and how we relate to the world around us."
Having a very successful parent can be a thankless task, especially if you're a talented artist in your own right. However, the apple didn't falls far from the tree and 25-year-old Cal de Brí has forged his own distinctive visual style. The filmmaker with a penchant for sharp editing and vibrant cinematography specialises in one-minute promotional films for use across social media. Cal's sublime footage of Park West has picked up widespread attention for its artistic merit.
"I have always had an interest in film," explained Cal. "My sister is a director and my grandad also worked in film. I studied cinematography in college, but a definite turning point was triggered by a short film I saw online. The energy of the edit had a great impact on me."
Cal described the process of filming at Park West: "I really enjoyed filming in Park West. I spent a lot of time playing with natural light at different times of day. The focus of the film was to feature the sculpture collection, the architecture and the substantial natural surroundings. It was great to become so familiar with an art collection that was so beautiful to shoot."
The opening shots of Cal's film showcase the stunning wildlife around the park, focusing on how nature is intrinsic to Park West's appeal. "When I began filming, the park's canal was home to a pair of cygnets," he said. "Over the course of the filming I was lucky enough to see them growing up, and this is documented in the final film."
When asked about which elements within the sizeable surrounds of the business park, Cal unsurprisingly pointed to his mother's creation, which holds a nostalgic allure for the young videographer. "As a child I remember my mam making the huge figure," he said. "When it was completed in wax and ready for casting, she heated the calf of one of the legs and my sister and I pressed our thumbs into it, leaving our prints."
Endless art
The concept of using art to enhance public spaces has long been debated. Orla de Brí believes art in the public realm takes on an ever more significant role in the modern world. "I think public sculpture begins a conversation. It reflects a time and the culture of the country. I think any art either speaks to you or doesn't, it is subjective and a very personal reaction. Sometimes you have to delve into something before you can appreciate it."
"I think it's a positive thing when people feel an ownership of a sculpture in their area," added Cal. "It's nice to see people interacting with art and, if that happens, I think the art piece has worked in the space."
To watch more of Cal's films click here