Visually striking and commercially successful design: the core of Park West firm Clear Designs
Few machines have influenced the advancement of the human race as much as the printing press. It revolutionised how people all over the world communicated with each other and has been hugely significant in the spread of knowledge and
information.
Up until quite recently, the printing industry was a relatively uncomplicated business landscape in which to operate. However, with the advent of cost-effective digital printing, as well as a shift in client demands, the sector has been transformed.
Predictions of a paperless age haven't fully materialised, but printing companies have had to smartly adjust their strategies in order to remain competitive.
Nestled in a peaceful corner of Park West, Clear Designs is one firm excelling in the provision of marketing solutions, as well as graphic, print and web design for its wide array of clients.
Having been involved in the graphic design and print business for over 20 years, Managing Director Keith Wealleans is well-versed in industry shifts and has experienced the hardship of an economic downturn. "When I was made redundant
from my previous role as Production Manager for a large publishing company, I saw the opportunity to for a different type of graphic design and print business," he explains. "That was back in 2010 and at the height of the recession. At this time companies had let a lot of their in-house designers and marketers go. So there were more opportunities as companies were looking to outsource projects."
In these uncertain conditions, Wealleans believed that print-service providers needed to take a new approach and decided to set up Clear Designs to provide a bespoke branding and design service for businesses.
"We have found the mindset has changed with our clients," he says of the sector's evolution. "Business card printing had always been the traditional route to win business. Now we find that website design drives new business; it builds better
relationships, ones that can lead to full rebrand projects and then on to full print or marketing services. There has also been a huge shift within the print industry due to advancing technology. For example, we now have the facility to offer same-day printing in-house."
"We specialise in a number of different areas, with the goal to deliver a product and service that our customers are 100% satisfied with," he enthuses. "Our team of talented graphic designers not only have an expansive skill set, but also provide an exceptional level of customer service, while our web designers will work with clients to produce a website that meets their specific requirements. And our new fabric
exhibition range gives companies the tools to emphasise a message through enormous eye-catching displays."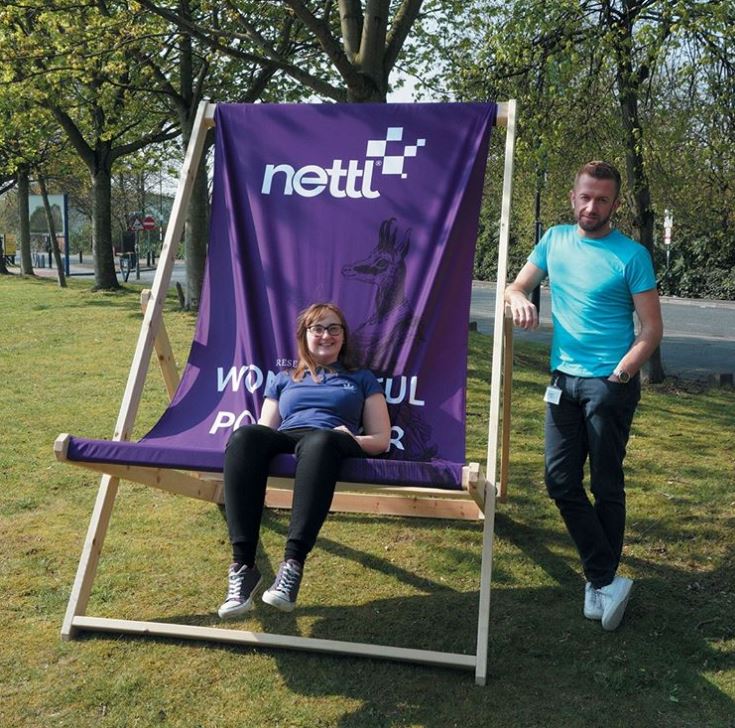 The sector doesn't stand still for long and with the continual advancement of technology, Wealleans is aware that those who shy away from change and innovation will fall by the wayside.
"Over the next five years, we see the business continuing to grow by adding more staff to the team as we continue to invest in new technology. Through innovation, we can continue to provide a smooth digital workflow for our clients through a
comprehensive plan that provides detailed goals and instructions in order to strengthen their brand identity."
The desire to expand is one of things that drew Wealleans to the area. When asked why he made the decision to relocate Clear Designs to Park West from its previous facility based in Grange Castle, he points to the wealth of opportunity the facility could offer an ambitious firm such as Clear Designs.
"To put it simply, we were previously in shared offices and had outgrown the space," he says. "However, we decided we didn't want to completely uproot the company and have found a home at Park West that allows us to grow the business in the way we want. And, compared to other locations around Dublin, the competitive pricing was a major plus point for us. The location of Park West has benefited the company by giving us more space to expand our client list, both within Park West and around the neighbouring areas."
Furthermore, Wealleans highlights a raft of other advantages the business park offers in terms of retaining a competitive edge. "The amenities here are second-to-none: excellent public transport links, welcoming coffee shops and a variety of food
options, while a lunchtime walk along the Grand Canal is a big favourite with our staff."
He adds: "There's definitely a warm sense of community here in Park West too, and some of our lovely neighbours have now become clients. We look forward to developing this further in the coming months."